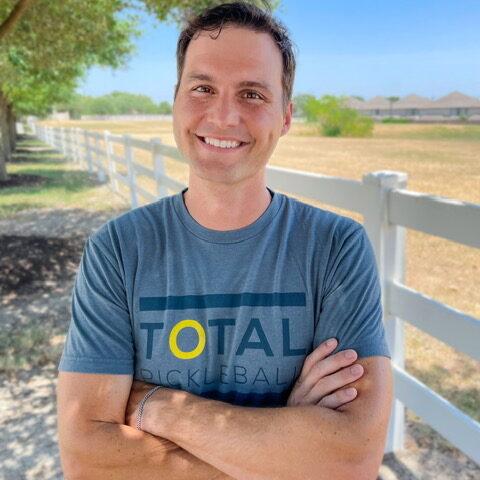 Brad Neuhaus
Texas Hill Country native and UT alumni, Brad Neuhaus, grew up with a ball glued to his hand.
He was always surrounded by talented athletes in his family who encouraged him to try many different sports from basketball to soccer to ping pong. In the early 1980s, his grandfather started a gym in San Marcos called Jim's Gym (now Texas Health & Racquet Club) that featured racquetball courts for the explosive sport at that time.
In 2021, Brad received a Pickleball set as a wedding gift from his brother. He visited the local Pickleball courts in Kansas City, KS with his wife, Ashley, and played his first real game. From that moment on, he was hooked. That night, he had dreams about playing again.
Over the next 2 years, Brad worked his way up through the Pickleball community to hone his fundamental skills and strategy. He played in 4 pickleball tournaments in 2022 before relocating from Kansas back to Central Texas. He is excited to be back in his home state and looks forward to breaking into Texas pickleball tournaments. Due to his love of coaching, he became a certified Level 1 instructor through the International Pickleball Teaching Professional Association (IPTPA) and looking to
expand his repertoire.
"One of the things I love about the sport is the sense of community you feel among other pickleballers. You could be playing with a beginner or a 5.0 player. Either way, you feel like your part of the club!" - Brad
In January 2023, Brad and his wife welcomed their son, Braxton in to the world. Brad can't wait to teach him the game of Pickleball!